As mums we are all experts in anxiety. Most of us experience it one way or another. My anxiety manifested itself through a lack of focus and concentration. But as a tired new mum with a stressful new job, we often think this is just part and parcel of our new life.
Having always been incredibly lucky with my mental health, the tears and the tantrums I was having were alien to me. I had wonderful support from my husband and family and I found a fabulous psychologist who helped me understand why I was feeling this way and what I could do about it. But the support system I had isn't available to everyone.
The more I spoke about my experiences, the more mums said 'me too'. That's why I wanted to create Maternal Balance. A safe space in which to breathe, learn, understand and help ourselves. I truly hope it helps you on your path to recovery.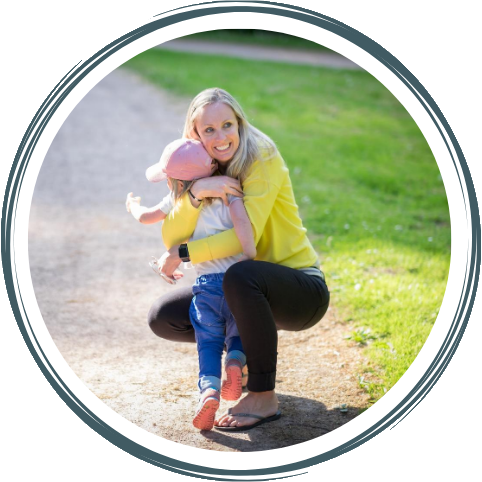 Maternal Balance is incredibly grateful to the experts who have given their time and experience to this website. Please do visit their websites. They're all incredibly lovely people who are always happy to have a chat. They also provide a wealth of workshops, classes and private consultancy sessions. Do use and support them financially if you can. They will be invaluable to the recovery of your mental health.
Bindi Gauntlett
Psychotherapist and anxiety specialist
Bindi Gautlett is an ex-Nurse and Health Visitor and is now the Founder of Guilt-Free Mum, a programme which helps parents to feel closer to their children, see a difference in behaviour and become the mum they want to be.
Kelly Wariner
Yoga Teacher and Wellbeing Coach
Kelly runs virtual yoga classes and wellbeing courses online as well as in person around Wiltshire. She enjoys empowering people to simplify their lives, take charge of their wellbeing and live intentionally in alignment with what matters to them most. She is always happy to answer questions.
Tracy Bingham
Yoga, breath-work and meditation
Tracy is a yoga teacher with a passion for helping people move and breathe better. She firmly believes in a yoga practice that is tailored to our unique bodies. She has also studied anatomy through her massage training, understanding the science behind breathing techniques and yoga postures.
Paula Power
Mental Health First Aid
Paula Power specialises in mental health first aid and is the owner of My White Dog a training agency which offers courses and workshops to recognise and support people with mental health challenges with early intervention.
Jennifer Mcdiarmid
Nutritional Therapist
Jennifer McDiarmid has more than seven years experience working in the field of Nutrition and Wellbeing. Jennifer runs a private practice running individual and family consultations, but also works to support various companies and charities across the UK with her nutrition work.
Sarah Fellows
Physiotherapist & Pilates Teacher
Sarah specialises in musculoskeletal physiotherapy, pelvic health and pilates. She is based out of Dyer St Clinic in Cirencester and teaches pilates in South Cerney. Sarah is truly holistic in her practice and aims with every patient to help them create an optimal healing environment.
Gemma Ovens
Fitness Trainer
Gemma is the founder of Postnatal Fitness Hub where she aims to support and educate as many ladies as possible in the importance of core rehab post pregnancy and to allow women to return to exercise safely.
Simon Keele
Fitness Trainer